IPO Coupang Inc. Korea's largest listing since Alibaba Group Holding Ltd.

About company
Coupang is creating a next-generation e-commerce experience. The South Korean company believes that by investing in technology and infrastructure for years to come with a customer focus, they are delivering a superior customer experience at a lower cost and continuing to change e-commerce standards around the world.
Shopping online has forced shoppers to make various trade-offs. E-commerce is convenient, but delivery times can be long and erratic. Services promising faster delivery often force customers to choose to order in advance, pay higher fees and prices, or all of the above.
Coupang solved these problems and changed the customer experience.
Their efforts focused on building an end-to-end, integrated system of technology and infrastructure that defines their ability to provide superior customer service and offer effective merchant solutions.
Full integration allows them to control and improve the entire experience, from the customer application to order delivery to the customer's door, while improving efficiency and lowering prices for customers. It took billions of dollars of investment in technology and infrastructure, exceptional execution and, most importantly, an innovation-driven culture designed to forever raise Coupang customer expectations and make them think, "How did I live without Coupang before?"
The company's Rocket Delivery network provides same-day or next-day delivery of more than five million unique items. Coupang claims that 99.6% of orders are delivered within 24 hours.
Coupang is headquartered in Seoul, South Korea, in the Songpa-gu district. Coupang also has offices in Beijing, Shanghai, Los Angeles, Mountain View and Seattle.
In July 2020, Coupang acquired the assets of Singapore's HOOQ streaming service to form its Coupang Play streaming service.

Financial indicators

Revenue for 2016: $1.489 billion.
Revenue for 2017: $2.232 billion. YoY growth of +49.81%.
Revenue for 2018: $3.79 billion . YoY growth +70.2%.
Revenue for 2019: $5.78 billion . YoY growth +52.32%.
Revenue 2020: $11.05 billion . YoY growth of +90.85%.
It's rare to find a company that has seen this kind of revenue growth for four or five years in a row. It's very impressive.
Net Income 2016: MINUS $494 million.
Net Income 2017: MINUS $617 million.
Net Income 2018: MINUS $1,097 million.
Net income 2019: MINUS $699 million.
Net Income 2020: MINUS $475 million.
About IPO
Plans to raise $3.4 billion.
Stock Exchange : NYSE
Ticker: CPNG
Price range : $27 to $30.
Underwriters: Goldman Sachs / Allen & Co./ JPMorgan / Citigroup / HSBC / Deutsche Bank Securities / UBS Investment Bank / Mizuho Securities / CLSA
Major investors: Bom Suk Kim, SVF Investments (UK) Limited (SoftBank), Capital Partners, LLC Maverick Holdings, Rose Park Advisors, BlackRock.
Last date of acceptance of bids: 9.03.2021
Trading date: March 11, 2021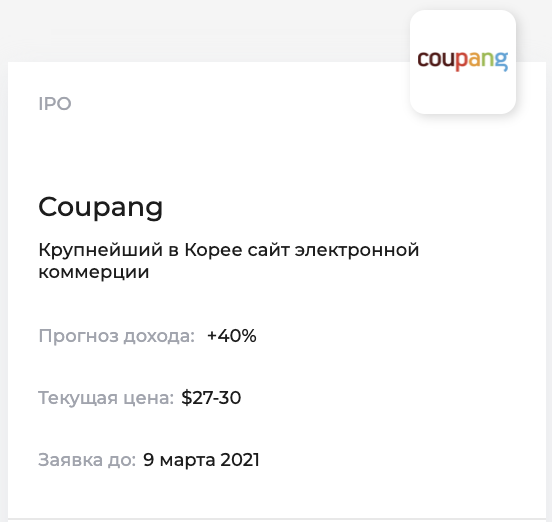 Follow the information in a format that is convenient for you: Telegram, Facebook, YouTube, Yandex zen